Toblerone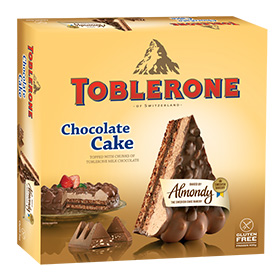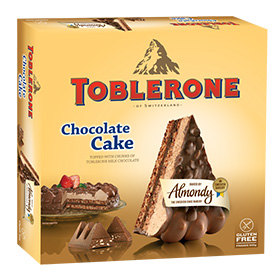 10 units per Master Box
| | | | |
| --- | --- | --- | --- |
| 1 unit | 400g (14.1 oz) | | |
| Calories | 440 | Total fat | 26g |
| Total carbs | 44g | Sat fat | 11g |
| Sugars | 34g | Protein | 9.8g |
Ingredients Egg white, sugar, Toblerone milk chocolate (13%) (sugar, whole milk powder, cocoa butter, cocoa mass, honey (3%), milk fat, almonds (1.5%), emulsifier (soya lecithin), egg white, flavouring), vegetable fat (palm, rapeseed, shea), cream, water, almonds (6,5%), apricot kernels, egg yolk, whole milk powder, cocoa butter, buttermilk powder, cocoa mass, lactose (milk), glucose syrup, cocoa powder, skimmed milk powder, stabilisers (sorbitol, carboxy methyl cellulose), emulsifiers (soya lecithin, lactic acid esters of mono- and diglycerides, mono- and diglycerides of fatty acids), salt, milk protein, flavouring.
Defrosting At room temperature, wrapping removed: Slice 30 minutes, whole cake 50 minutes.
Serving tips This cake can easily be cut while frozen. When cutting, use a sharp knife dipped in hot water. We recommend serving it chilled, although it also tastes excellent at room temperature.
Featured Products