Toblerone 12 slices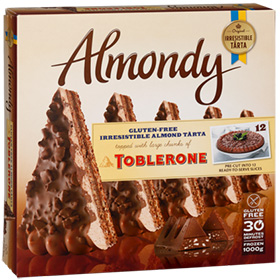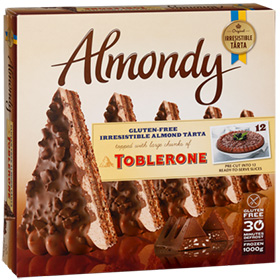 6 units per Master Box
Ingredients: Egg white, sugar, Toblerone milk chocolate (15%) (sugar, whole milk powder, cocoa butter, cocoa mass, honey (3%), milk fat, almonds (1,5%), emulsifier (soya lecithin), egg white, flavouring), vegetable fat (palm, rapeseed, shea), water, cream, egg yolk, almonds (4,5%), sunflower kernels, whole milk powder, cocoa butter, apricot kernels, cocoa mass, buttermilk powder, glucose syrup, fat-reduced cocoa powder, skimmed milk powder, lactose (milk), stabilisers (sorbitol, carboxy methyl cellulose), emulsifiers (soya lecithin, lactic acid esters of mono- and diglycerides, mono- and diglycerides of fatty acids), salt, milk protein, flavouring.
Defrosting At room temperature, wrapping removed: Slice 30 minutes, whole cake 50 minutes.
Serving tips This cake can easily be cut while frozen. When cutting, use a sharp knife dipped in hot water. We recommend serving it chilled, although it also tastes excellent at room temperature.
Featured Products